Discover more from Fashion Strategy Weekly
FSW focuses on how strategy, economics, tech, and sustainability impact fashion, luxury, and the experience economy. A publication by It's A Working Title, LLC.
Quintessential Quiet Luxury: A Conversation with Gianni Colarossi of Hackett
FSW speaks with Gianni Colarossi, VP of Hackett Product, about the legacy of British design and the narrative behind the brand's Autumn-Winter 2023 campaign.
Over the weekend, there was a lot of noise at Milan Fashion Week about the definition of luxury.
After a perhaps quieter-than-expected debut at Gucci from Sabato de Sarno and similarly underwhelming collections from the likes of Prada, some journalists began to question whether luxury brands are pandering too much to the sellability quotient of the quiet luxury trend and, in turn, are losing their identities as luxury through a lack of creativity.
Outside of the Fashion Month fervor, however, is where the really interesting work of luxury is happening. Many luxury brands prefer to stay above the fray, more behind the scenes of luxury fashion. But they are nonetheless making an impact. With a keen sense of brand DNA and a deep awareness of their target audiences, these brands have a mastery of the perfect marriage of story, quality, and product.
Hackett London is a luxury brand that continues to deliver on its brand promise from season to season and innovates in perhaps quieter ways than other brands. Founder Jeremy Hackett formed the brand in 1983, initially as a stall on London's Portobello Road and then as a small secondhand shop on the "wrong end" of King's Road in Chelsea. With his modern take on contemporary menswear, Hackett's vision was to bring Savile Row-worthy craftsmanship for an affordable price without sacrificing quality. Over time, Hackett London as a brand has grown significantly and now has over 150 stores in more than 30 countries.
FSW recently sat down with Gianni Colarossi, Vice President of Hackett Product, on the occasion of the launch of its Autumn-Winter 2023 collection online.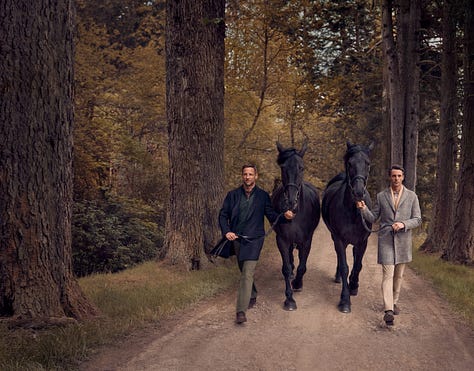 FSW: What is the story of the Hackett London AW23 brand campaign?
GC: The AW23 Hackett London campaign embarks on a fascinating journey through time and nature, a harmonious fusion that blends traditional garments with a contemporary British twist. The colors of the collection are perfect against the backdrop of the untamed beauty of Scotland this season.
Steeped in history, traditional elements yet modern styling, the campaign unfolds against the majestic and rugged landscape of Scotland. Our esteemed ambassador, iconic British racing driver and Formula 1 World Champion, Jenson Button, is joined by acclaimed British actor Matthew Goode for the first time. Together they epitomize the spirit of the brand. We wanted to capture freedom, adventure, and a playful twist as they explore the Scottish countryside, adorned in Hackett's finely-crafted garments.
FSW: How do the fabrics and colors of this collection contribute to its vision and mood?
GC: Drawing inspiration from its London roots, the brand presents a unique selection imbued by the vibrant urban life of the city and the nature of its Royal parks.
The colors are very much in keeping with nature, earthy tones of green and brown given autumnal accents of mustard, cognac, and burgundy.
The collection bridges the gap between sartorial craftsmanship and casual elegance, bringing the British countryside's color palette to the city and conveying tailoring details to more casual silhouettes. Featuring premium wools and finely crafted leathers in pine greens, chocolate browns, and deep blue hues compliment the Scottish wilderness.
Showcasing sophisticated, masculine, and well-constructed garments, crafted in luxury fabrics, each layer is made to protect from the elements while allowing its wearer to move with confidence and ease wherever he may roam. Comfort is a key element to all our garments.
Why did you choose Jenson Button and Matthew Goode to represent Hackett London for this campaign?
GC: For Hackett London, working with Jenson Button and Matthew Goode has been an enormous pleasure. Jenson is our esteemed ambassador, who has been collaborating with the brand for several seasons, and Matthew Goode is an acclaimed British actor with whom we have collaborated in the past. Both of them reflect perfectly the spirit of the Hackett London man. A global citizen with an active social life, they wear our clothes effortlessly and of course, both of them  are unique and stylish.
This campaign has a nostalgic heritage feel. What was the goal in having Charlie Gray approach photographing the collection this way?
GC: We have worked with Charlie on several projects. In a nutshell, it's his complete understanding of the brand and what mood we are trying to capture that makes him the perfect choice. He is a pleasure to work with and understands the importance of colour, texture and detail of our clothing.
FSW: What is your take on the role of heritage in the future of luxury fashion? What does heritage mean to the Hackett London brand?
GC: Hackett has remained true to its origins by combining traditional styles with modern cuts in a uniquely British style, offering a range of products. The traditional British Tailored product meets the rest of the collection to build a full offer for the modern man of today: the British smart casual. Every collection of Hackett is unique without losing the British heritage and DNA of the brand. That is very important.
Hackett is a symbol of all that is best in British style today, with a reputation that still exceeds its rapidly growing retail and wholesale footprint. Hackett is now an established global brand, offering the "Essential British Kit" to customers across the world.
Thanks for reading FSW. Subscribe for free to receive new posts and support our work.